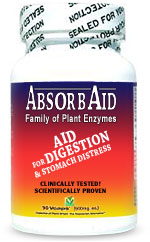 AbsorbAid®
A Natural Approach... Unlike Antacids and Acid Blockers

• Aid for Digestion & Stomach distress.
• Natural plant enzymes.
• Clinically tested, Scientifically proven.


AbsorbAid® significantly increases your body's ability to absorb nutrients, and the unique "stabilized plant enzymes" have been bio engineered to be stomach acid stable, and continue to be active in the small intestine - AbsorbAid® will help digest every food group. It has been scientifically proven to enhance the absorption of vital nutrients up to 71%.

AbsorbAid® will effectively SUPERCHARGE the use of nutrient rich foods, vitamins and other supplemental products.
For best results use AbsorbAid® with every meal, snacks and protein drinks. Do not add AbsorbAid® to hot liquids as heat destroys the enzymatic activity. Keep in a cool, dry place. Do not refrigerate. Keep container free of moisture. Heat destroys enzymes.
CLICK HERE for Additional Information!